Cat Security™ Cat Shieldin Baton Rouge, LA
Whether you've already been the victim of catalytic converter theft or you're considering catalytic converter theft prevention methods, chat with the experts at our Louisiana Toyota dealer to compare your options. We help our customers install Cat Security™, a metal plate that provides a strong barrier that protects against catalytic converter theft, which could result in costly repairs or even total your vehicle. Chat with the certified auto service technicians at our Toyota dealership in Baton Rouge to learn more about how to have this anti-theft device installed on your vehicle. Let us provide you with the peace of mind you deserve!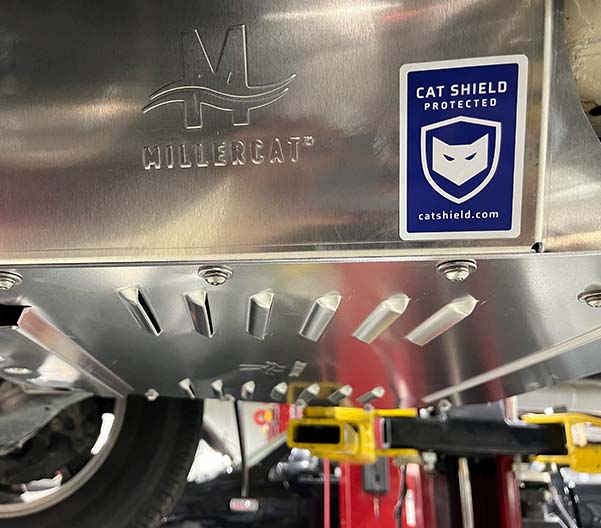 Catalytic Converter Theft Prevention near Me
It's upsetting to have your catalytic converter stolen, to have to file a police report and to wind up with a costly catalytic converter repair. Here at our local Toyota dealer, we want to help you get back on the road in no time by installing the tools you need to prevent this crime from happening again. Schedule auto service for a catalytic converter replacement and our certified Toyota service technicians will fix up your vehicle and install a Cat Security™ system for added peace of mind. We'll show you how the Cat Security™ Cat Shield works and answer any questions you have about the installation process. Plus, we'll provide transparent catalytic converter prices, so there aren't any surprises.
Catalytic Converter Service in Louisiana
Have questions about missing catalytic converter symptoms to determine if it was stolen from your vehicle? Schedule auto service today and our technicians will take a look underneath your car and diagnose the issue. Then, we'll work with you to order catalytic converter parts, including the Cat Security™ system, so you can put this worry out of your mind for good. We're certain this catalytic converter cage will help prevent future theft, so you can get back to enjoying your Toyota for many miles. Contact All Star Toyota of Baton Rouge to learn more!